Single Mode Fiber Coupled Butterfly Package
Our wavelength stabilized single-mode fiber coupled laser diode features high output power with ultra-narrow spectral bandwidth and a diffraction limited or multimode output beam.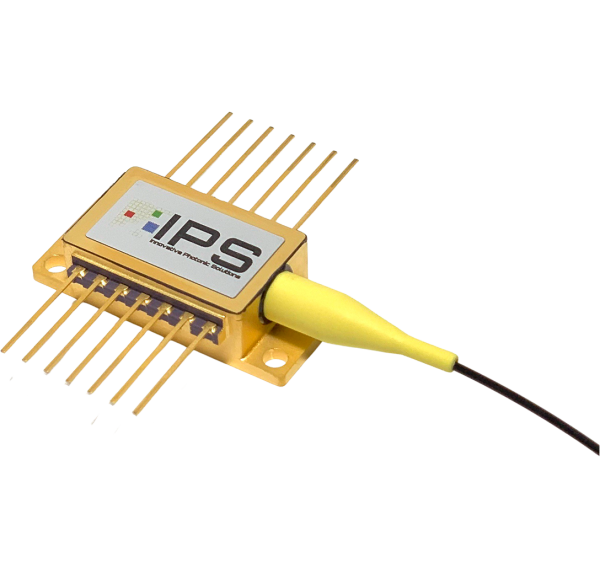 High Power Single Frequency Output (SLM)
Narrow Spectral Linewidth (~100kHz)
Stabilized Output Spectrum (< 0.007 nm/°C)
Gaussian TEM00 Spatial Mode
Circularized & Collimated Output Beam
Integral ESD Protection & Thermistor
Integral Laser Line Filter
SMSR 70 dB w/ laser line filter (40 dB without)
"Ultra-Track" Linear Tracking Photodiode
Detailed Info
Wavelength & Power
Optical Specs
Electrical Pinout
Customization Options
Configurations
PDF & Step Files
Detailed Info
Designed to replace expensive DFB, DBR, fiber, and external cavity lasers, the spectrum stabilized laser offers superior wavelength stability over time, temperature (0.007 nm/°C), and vibration, and is manufactured to meet the most demanding wavelength requirements. The 14-pin butterfly package is available at wavelengths ranging from 633 nm – 2400 nm as a stand-alone component, in an integrated OEM module, or in a fully integrated module with user configurable temperature and power control electronics. Lasing wavelength can be accurately specified and repeatedly manufactured to within 0.1 nm upon request. The butterfly package can be configured in a fiber-coupled or open beam output. Single mode devices can also incorporate PM-slow axis or PM-fast axis fiber coupling.  The output coupler can be configured for bare fiber, FC/PC, FC/APC, or SMA connectors.  The laser is ideal for high resolution Raman spectroscopy, confocal microscopy, direct-diode frequency doubling, laser seeding, gas sensing, metrology and remote sensing applications.
Wavelength & Power
Optical Specs
Electrical Pinout
Customization Options
Configurations
PDF & Step Files