Single-Mode Digital Tethered Module with Optical Isolator
Our Single-Mode Digital Tethered Module with an Optical Isolator is a fully turn-key, UL/CE and IEC certified laser module perfect for lab use. It comes complete with an internal wavelength stabilized laser module, a laser enable switch for safety, an LED readout, an output power control dial, a safety key lockout, a remote interlock, and an emergency shut-off switch (EMO). The 'Tethered Head' offers ease of use and flexibility for different setups and allows the user to bring the open beam laser output to the sample.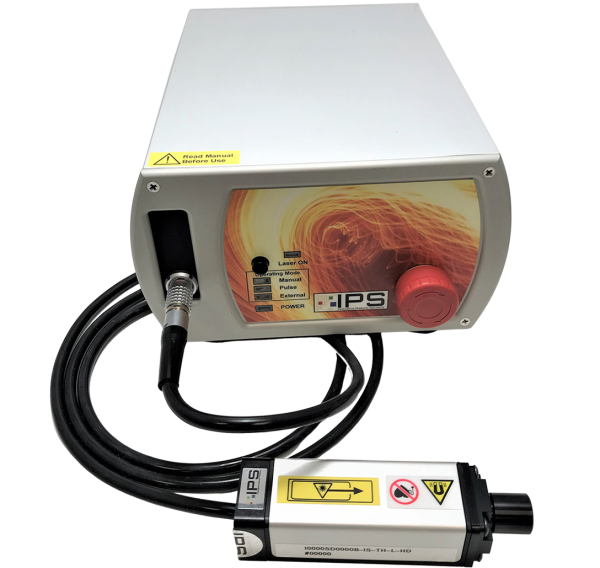 Wavelength Stabilized Spectrum
Narrow Spectral Linewidth (<1 MHz FWHM)
High Power Single-Mode Open Beam Output
TEM00, Single-Spatial and Single-Longitudinal Mode (SLM)
Circularized & Collimated Output Beam
Integral Laser Line Filters at 633nm, 638nm, 785nm, 808nm, and 830nm
>50 dB SMSR Typical
USB Interconnectivity
UL/CE and IEC Certified & Fully turn-key
External fiber patch cord sold separately
Detailed Info
Wavelength & Power
Optical Specs
Electrical Pinout
Data Sheets & Manuals
Software
Customization
Configuration
PDF & Step Files
Detailed Info
IPS's proprietary Wavelength Stabilized Laser features high output power with narrow spectral bandwidth. The laser's stabilized peak wavelength remains "locked" regardless of case temperature (10 to +35 deg. C) – making this source an ideal choice for the most demanding applications.
Devices can be spectrally tailored to suit application needs and offer side mode suppression ratio (SMSR) better than 40 dB, making these sources ideal for high resolution Raman spectroscopy, confocal microscopy, and interferometry applications.
For a more detailed description, see the following datasheets and operation manuals.  If you don't see exactly what you need, give us a call we have customized these modules in many different ways for various customers to meet their most demanding needs.
Wavelength & Power
Optical Specs
Electrical Pinout
Data Sheets & Manuals
Software
Customization
Configuration
PDF & Step Files